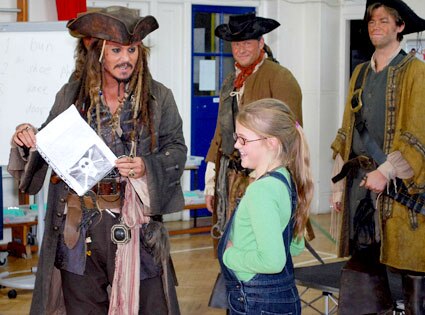 cuba tengok. come and see. johnny depp buat surprise visit at some school in London. budak perempuan tu tulis surat kat depp, minta tolong dalam melancarkan pemberontakan terhadap cikgu dorang. ni surat yang dia tulis ke johnny depp;


"Captain Jack Sparrow, At Meridian Primary School, we are a bunch of budding young pirates and we were having a bit of trouble mutiny-ing against the teachers, and we'd love if you could come and help," wrote the wee Beatrice Delap, who signed her entreaty, "a budding pirate."
amboi amboi amboi curlasss noks tak puas hati dengan cikgu siap tulis surat ada gambar tengkorak kat bintang pilem. dulu saya tak puas hati dengan cikgu sekolah buat petisyen je. tak terfikir pun masa tu nak bagi surat tu ke Backstreet Boys suruh datang tolong kami. heheh.